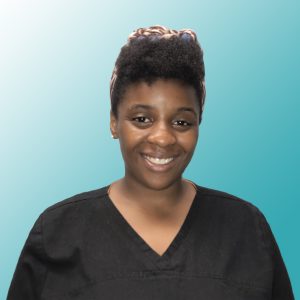 Saffiya Washington, LMT
Saffiya is a 2018 graduate of the McCann School of Business and Technology, where she completed an intensive massage therapy program and procured nearly 200 clinical hours. Not only does her dedication and passion shine through with each client that she services, but Saffiya strives to create the most serene experience imaginable. In doing so, she delicately frames each session to the individual's unique needs, which includes incorporating relaxation massage techniques with myofascial release, deep tissue work, and stretching. Her other areas of expertise are hot stone and therapeutic massage, used to create a relaxing, integrative and fully-effective massage experience.
A love for alleviating client discomfort is just one of many components that prompted Saffiya's new career path in massage therapy. Following a diagnosis of multiple sclerosis of the cervical spine in 2017, while simultaneously undergoing the everyday stress of a student, she made the life-altering decision to begin receiving weekly massages as a mechanism to reduce symptoms. As a result of her own experiences, Saffiya knows that there's no greater feeling than to be pain-free.
Saffiya is looking forward to expanding her education in deep tissue techniques, in addition to learning ashiatsu massage in the future. Saffiya's whole-heartily belief in the power of massage to fuse the mind, body, and soul as one is a welcomed addition to Balanced Body Therapeutic Massage.
Saffiya is a member of the Associated Bodywork and Massage Professionals.
PA State License Number: MSG012665

Brianna Lembach, LMT
In 2014, Brianna graduated from the Pennsylvania Institute of Massage Therapy and procured her license in massage. She has six years of study in anatomy and physiology and received certification in cupping therapy as well as being recognized for it by the International Cupping Therapy Association. Modalities she has received training in are swedish, hot stone, prenatal, orthopedic, sports, and deep tissue massage, as well as active isolated stretching, myofascial release, facial rejuvenation cupping, cellulite cupping and reflexology. Brianna looks forward to working with you and meeting each individual's therapeutic needs.
Brianna is a member of the Associated Bodywork and Massage Professionals.
PA State License Number: MSG009412

Jessica Sanchez, LMT
(Currently on Maternity Leave)
Jessica is a graduate of McCann School of Business and Technology. Some of her specialties include sports massage, cupping therapy, myofascial release, and stretching. She has a unique approach to whole body massage using a variety of techniques and modalities. She feels strongly about helping her clients find pain relief and to cut down on doctor visits. Self-care is important to Jessica. She feels that massage therapy can open up someone's world when they realize receiving therapeutic massage isn't just a luxury but a way to take care of your body and soul.
Jessica is bilingual Spanish and English. She is a member of the American Massage Therapy Association.
PA State License Number: MSG012993

Kristin Kymer, LMT – Owner
*Kristin is not accepting new clients at this time. For a personal referral to a different therapist, contact her at 610-653-7701.
After many years of suffering from Scoliosis and various treatments, Kristin started college in 2007 at Northampton Community College majoring in Biology with the desire to be a Physical Therapist. Not too long after, she changed her dream in hopes of becoming a Massage Therapist. Kristin went on to complete a 633-hour Massage Therapy program at Pennsylvania Institute of Massage Therapy.
In addition to serving as a Balanced Body Therapeutic Massage team leader, Kristin is well-versed in Deep Tissue & Therapeutic Technique, Reflexology, Prenatal, Myofascial Trigger Point Therapy, Orthopedic Massage, Active Isolated Stretching, Kinesiology Taping, and other modalities. She knows just how important it is that therapy and massage go hand in hand when helping to relieve muscle tension. In fact, Kristin has utilized continued massages as a way of helping to alleviate her own back discomfort. Recently, her interests and expertise have focused on Cupping Therapy, Gua Sha, and Deep Tissue.
She is a participating provider with the following health insurance companies: Cigna, Optum Health Allies, Optum enhancedcareMD & American Specialty Health.
Kristin is a member of the Associated Bodywork and Massage Professionals.
PA State License Number: MSG001705